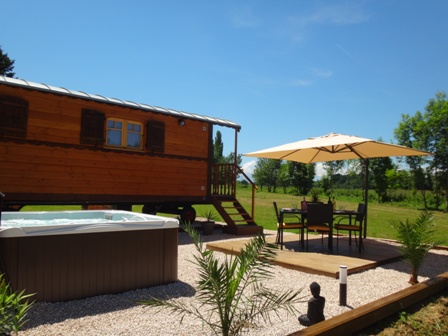 Holiday rental in a countryside gypsy caravanROULOTTE AVEC JACCUZZI PRIVÉ
65230 CAMPUZAN
Owner nearby - Shower - Self-contained accommodation - Non-smoking accommodation - Shared garden - Parking - Single storey - Meadow - Own bathroom - Shower-room (shower) with WC - Lounge - Terrace
Portable Barbecue - Lounge chair/recliner/sunbathing - Heating - Air conditioning - Combi fridge-freezer - Microwave - Garden sunshade - Refrigerator - Colour television
Jacuzzi - Games for playing indoors - Games on the spot
In a green and wooded setting with views of the Pyrenees, come and enjoy a relaxing stay in our quiet trailer fully equipped with private jacuzzi. It can accommodate up to 4 people. It consists of a sleeping area with a large bed (160cm), a sofa bed for 2 people, a bathroom and a kitchenette (fridge, hob, microwave). It is equipped with reversible air conditioning and a television. All the dishes are provided, the bed is made upon arrival, the bathroom linen is also provided.
Nbr persons:
Cellular telephone 06 52 32 46 35
Site internet:
https://www.loasisdespyrenees.com
E-mail:
loasisdespyrenees@outlook.com
---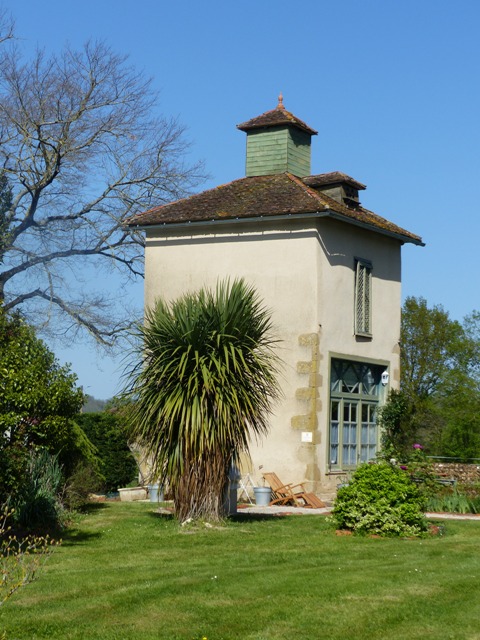 A completely renovated and fully equipped dovecot for holiday rental.GÎTE CASTELVIDOUZE
32300 SAINT-OST
Owner nearby - Bathroom - Courtyard - Own entrance - Storey - Self-contained accommodation - Non-smoking accommodation - Closed garden - Parking - Shower-room (shower) with WC - Lounge - Terrace
Hoover - Grill - Built-up barbecue - Highchair - Lounge chair/recliner/sunbathing - Heating - Air conditioning - Freezer - Iron - Oven - Microwave - Own washing machine - baby cot - Garden sunshade - Refrigerator - Ironing board - Colour television
Warm and traditional location arranged on 2 floors. Peace and quiet with terraces and a shady park with 100 year old trees.
Discover the numerous hiking trails of the Gers valleys. Country markets with excellent local produce.
Nbr persons: 2
Fixed telephone 05 62 06 91 81 Cellular telephone 06 70 42 07 91
Site internet:
https://www.castelvidouze.com
E-mail:
maryse.ader@wanadoo.fr Personal details
---